INTRODUCTION
Eimeriosis is one of the most important protozoal infections in poultry, inflicting heavy economic losses in the form of high morbidity and mortality in affected flocks1. It is caused by different species of the genus Eimeria, belonging to the family Eimeriidae. Poor management such as damp litter, contaminated drinkers and feeders, high stock density and poor ventilation are the most important predisposing factors of this disease in intensive poultry production2. It has a negative impact on the production performance of affected birds in terms of retarded growth and poor feed conversion ratios in addition to high morbidity and mortality3. According to an estimate, it causes economic losses of up to three billion US dollars annually worldwide4,5.
Many poultry farmers rely greatly on chemoprophylactic drugs to fight against this ailment since vaccines against coccidia are very rare. Misuse and over usage of these synthetic drugs in poultry have led to drug resistance in the fight against coccidiosis. Furthermore, these synthetic drugs are not always readily available and are sometimes very expensive, especially for small scale farmers5,6.
Many alternative strategies are under investigation for the effective, economic and environment friendly control of coccidiosis, including the use of medicinal plants. In this context, two medicinal plants; Aloe vera and Carica papaya have been reported for promising immunomodulatory effects to control coccidiosis5,6.
Among herbal products, A. vera is a well-known medicinal plant. It contains more than 75 bioactive compounds which have numerous applications and benefits7,8. It has pharmacological activities such as antibacterial, antiviral, antifungal, antiparasitic, analgesics and antioxidant9. Aloe vera has been be used in the form of extract, powder, ethanolic extract, aqueous extract in poultry industry10,11.
Many studies have been conducted to evaluate the effects of A. vera on growth performance parameters and the immune response of broiler chickens and have shown different results. In some studies, A. vera has been used as feed additives in poultry production for different purposes, but the results have been inconsistent12-14. Preparation of A. vera extract is very easy, convenient and cheap for the poultry farmers who are not well educated. Therefore, this study was in an effort to use aqueous extract of A. vera as natural growth promoter and an effective tool for the control of coccidiosis in Kabir chickens.
On the other hand, C. papaya has been reported to possess excellent medicinal properties for the treatment of different ailments. Different parts of the C. papaya plant (leaves, seeds, latex and fruit) have been used for its medicinal value. Latex from unripe papaya fruit contains the papain and chymopapain enzymes and a mixture of cysteine endopeptidases, chitinases and serine protease inhibitor. Phytochemical analysis of C. papaya leaf extract revealed the presence of alkaloids, glycosides, flavanoids, saponins, tannins, phenols and steroids which are useful for the treatment of different diseases including coccidiosis15.
Information on the preparation and administration of these plant extracts in poultry birds would significantly enhance control of coccidiosis in poultry. In addition, A. vera and C. papaya are widely grown in Cameroon and the preparation and administration of these plants extracts to the birds is very easy and suitable training on the use of these plants will be an added advantage to the farmers. To avoid the drug resistance and extra cost of synthetic medications, the use of these plants will be economical and enhance poultry productivity. Furthermore, the effects of these plant extracts on haematological and growth parameters were also evaluated because they have positive effects on these parameters of poultry birds16.
Kabir Chickens are local fowls raised by local farmers in Cameroon but these chickens are constantly infected by coccidiosis. In our previous studies, ethanolic extracts of these two plants was very effective but farmers complained of the difficulties in the preparation of the ethanolic extract and we have embarked on using aqueous extracts of the same plants to see if similar results can be obtained. If this happens, we will rather recommend the latter because it can be easily prepared by the farmers and similar results will be achieved. From the results obtained, this work will be of great importance to the local farmers who have small farms of few birds because, these plants are readily available, very effective, cheap to obtain and expenditure on synthetic medications to fight coccidiosis will be reduced thereby increasing profits.
MATERIALS AND METHODS
Study site: The plants (A. vera and C. papaya leaves) used for the extracts were collected from the Ekona Research Centre (IRAD), Buea, Fako Division, Southwest Cameroon and identified. The study was carried out in the Africa Brazil Market Place Project Poultry Farm located in Lyongo village, Buea, Southwest, Cameroon from April to November 2019. Fako Division is characterized by a long rainy season from March to November and a dry season which spans for the rest of the year. The Division is a typical mountainous area with some lowland settlements and very low temperatures during the peak of the rainy season. Map of the study area is shown in Fig. 1.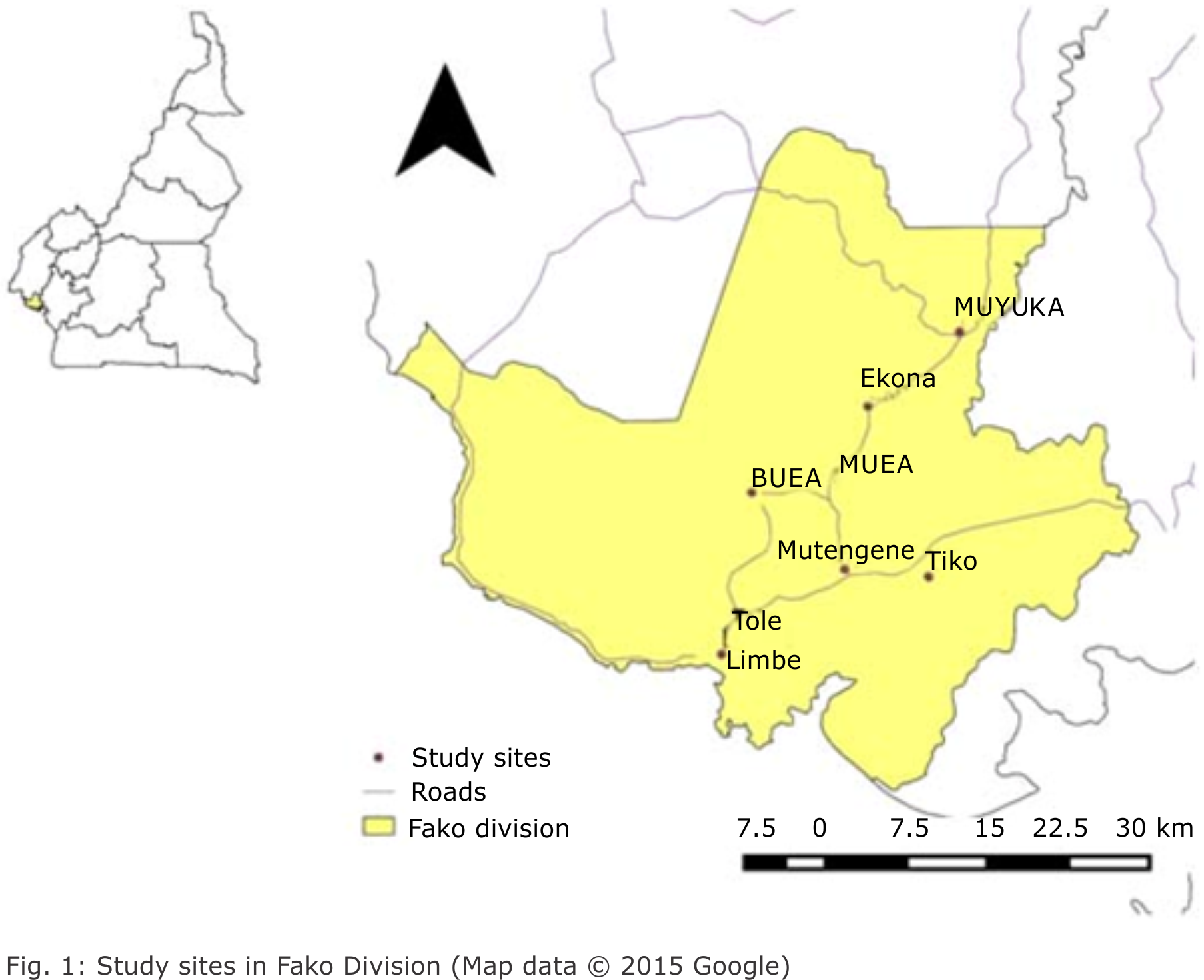 Study design: There were 3 experimental groups per extract made up of T1-T3 and two control chambers (T4, T5). The first experimental group (T1-T3) were administered aqueous extract of A. vera at concentrations of 0.32 g, 0.80 g and 1.44 g chicken–1 day–1 respectively while the second experimental group (T1-T3) were given the aqueous extract of C. papaya in different concentrations of 0.32 g, 0.80 g and 1.44 g chicken–1 day–1 respectively as shown in Table 1. T4 was the negative control group which was infected but not treated while T5 was the neutral group which was not infected at all and not given any extract but water.
Each group had equal number of chickens, had the same feed intake and composition, under the same environmental conditions with ad libitum access to feed and water as shown in Table 2. They were inoculated at their eighth week with the parasites and treatment started four days after inoculation and went on for 8 days. The chickens for each extract were inoculated orally with equal numbers of Eimeria oocysts (3200 oocysts per gram, OPG) except for the neutral group T5. The McMaster technique was used to monitor the oocyst load.
Production of the experimental chickens: Experimental chickens consisted of both naked-necked and normal-leathered breed Kabir chickens, displaying a variety of plumage colours. After leaving the hatchery the experimental chicks were grown under uniform brooder conditions from a day old to experimental ages. The birds were housed in a disinfected deep litter system with wood shavings being the bedding material. A total of 40 chickens were used for the experiments with 8 chicks per experimental group or treatment. The chickens used for the experiments were produced and hatched from the parent stocks in the farm (Fig. 2). They were groomed from day-old to 8 weeks when the experiment started.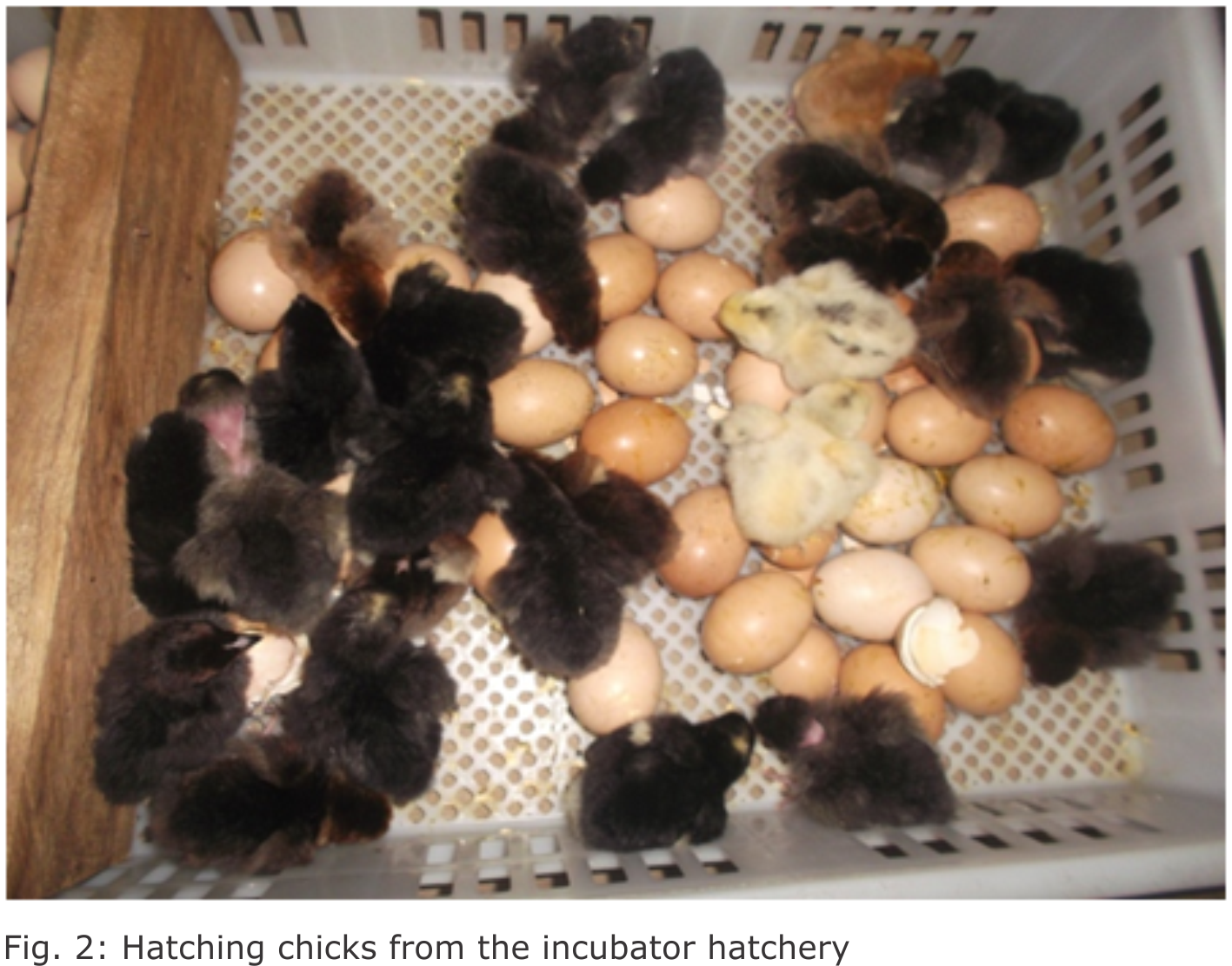 Preparation and administration of the aqueous extract of A. vera and C. papaya plant extracts: These plants were harvested from the IRAD Ekona, Fako Division South West Region and Identified in the Department of Botany and Plant Physiology of the University of Buea, Cameroon. Fresh Aloe leaves were collected, cut into smaller sizes and dried in an electrical drier. The dried leaf was ground and dissolved in water and macerated after every 24 h for 4 days. This mixture was then sieved through whatmann paper and evaporated through the electrical oven at 40°C until all the water evaporated and the fine powder was used to prepare the extract.
The C. papaya plant leaves were harvested and dried in a hot and shaded area. After drying, unwanted particles and parts were separated from the leaves by hand picking and the preferred parts ground. Powders obtained were further sieved to obtain very fine dusty particles of the plant leaves. Aqueous extract was obtained from these fine powders as described above and used for administration during the experiments. The chickens were grouped into treatment groups (Tcp1-Tcp3) and the crude extract from papaya leaves were administered at doses of 32 mg, 80 mg and 144 mg chicken–1 day–1 respectively.
Statistical analysis: Data were analyzed using analysis of variance (ANOVA), followed by Duncan's Multiple-Range (DMR) test using the SPSS 20.0 Statistical Software Program (SPSS, Inc., IBM, Chicago, Illinois, USA). Differences of p<0.05 were considered statistically significant. The mean values that were calculated before and after the administration of different extracts were used to evaluate percentage in reduction, using the following formula17:
Also, some production parameters such as the average feed intake (FI) which is the total amount of feed consumed by the chickens from the day of the administration of the plant extract till the last day, average daily weight gain (AWG) between treatments were calculated. These parameters were calculated using the following formula:
Where
FI : Feed intake
AWG : Average weight Gain17
RESULTS
Efficacy of aqueous A. vera leaf extract against Eimeria spp. in Kabir chickens: There were significant reductions (p<0.0001) in oocyst counts in the treated chickens and the statuses changed from heavy infections to very light infections except for chickens of T5 group which were infected but not treated. Chickens of T5 group remained negative throughout the experimental time, meaning that there was no other source of infection apart from the ones inoculated. There was 99.9% reduction in T3, 99.3% in T2, 99.1% in T1 and -127% in T5 because the oocyst counts here were increasing instead of decreasing due to the fact that the chickens were infected but not treated. Overall, reduction of oocysts was positively correlated with extract dose. Details of the results are indicated in Table 3.
Efficacy of aqueous C. papaya leaf extracts against Eimeria spp. in Kabir Chickens: The mean oocyst counts before treatment and on the 8th day of treatment were calculated. Percentage reduction counts were calculated and the parasite status of each significantly (p<0.0001) changed from heavy infection to light infection or moderate. The highest reduction (99.8%) in oocyst count was recorded in T3 which received the highest concentration of extract while the least reduction (92.6%) in oocyst count was recorded in T2. A continuous increase in the oocyst count was recorded in the infected but untreated group (T5) (Table 4).
Comparing the efficacies of the two aqueous extracts of A. vera and C. papaya leaves against Eimeriosis: At the end of the study a comparative evaluation of the efficacy of the two extracts against Eimeriosis was done and it was observed that at the same dose, aqueous extract of Aloe vera was more efficient than aqueous leaf extract of C. papaya though the differences were not statistically significant at p<0.05. Details of the differences are presented in Fig. 3.
Effects of treating Eimeria-infected chickens with aqueous extract of A. vera leaf on feed intake, average weight gain, growth rate and feed conversion: The highest growth rate was recorded in T5 (negative control group of chickens), while the lowest was recorded in T2 but the differences were not statistically significant (p = 0.078). The highest feed conversion ratio was recorded in T5 (14.5%) while the lowest was in T3 (7.5%) at the dose of 144 mg kg–1 body–1 weight and the difference was statistically significant (p = 0.034). Using Turkey multiple comparison test, differences between treatment groups were spotted out with superscripts (Table 5).
Effects of treating Eimeria-infected chickens with aqueous extract of C. papaya leaf on feed intake, average weight gain, growth rate and feed conversion: The highest growth rate was recorded in chickens of neutral group (9.1%) while the lowest was recorded in negative group (3.1%) and the differences were statistically significant (p = 0.046). The highest feed conversion ratio was recorded in T4 (8.1%) while the lowest was in T2 (1.6%) and the difference was statistically significant (p = 0.031) (Table 6).